LG (F0L9DGP2S) Washer And Dryer 15kg/8kg, Silver
Roll over image to zoom in
Click to open expanded view
$1,250.00 (-18%)
| | |
| --- | --- |
| BRAND | LG |
| MODEL NO | F0L9DGp2s |
| TYPE | FRONT LOAD |
| COLOR | SILVER |
| CAPACITY | Washer 15kg / dryer 8kg |
| Energy class | INVERTER |
| Spin speed | 1400 RPM |
The model name has been copied.
LG F0L9DGP2S Washing Machine: Energy-Efficient & Reliable
Stock List

AI Direct Drive – Intelligent Fabric Care
LG front load washers with AI Direct Drive technology can weigh the load and assess fabric softness to automatically select the optimal wash motions for thorough cleaning and clothing care.
*The image of the product is for illustration purpose only and may differ from actual product.
What is AI DD™?
AI DD™ refers to 'Artificial Intelligence' technology that has been applied to control the machines washing motions via the Direct Drive Motor.
By using AI technology and referencing a database of wash motions the machine assesses the load characteristics and selects the best option for a thorough clean with reduced clothing wear*.
*For Cotton, Easy Care and Mixed Fabric cycles only.
Steam™
Reduce Allergens with the 'Allergy Care' Cycle
Use the 'Allergy Care' cycle and the Steam™ feature when you need washing results for clothing and bedding where sensitivities to allergens such as dust mites and pollen exist.
*Allergy Care cycle approved by BAF (British Allergy Foundation) reduces 99.9% house dust mite allergen.
Up to 99.9% Allergen Removal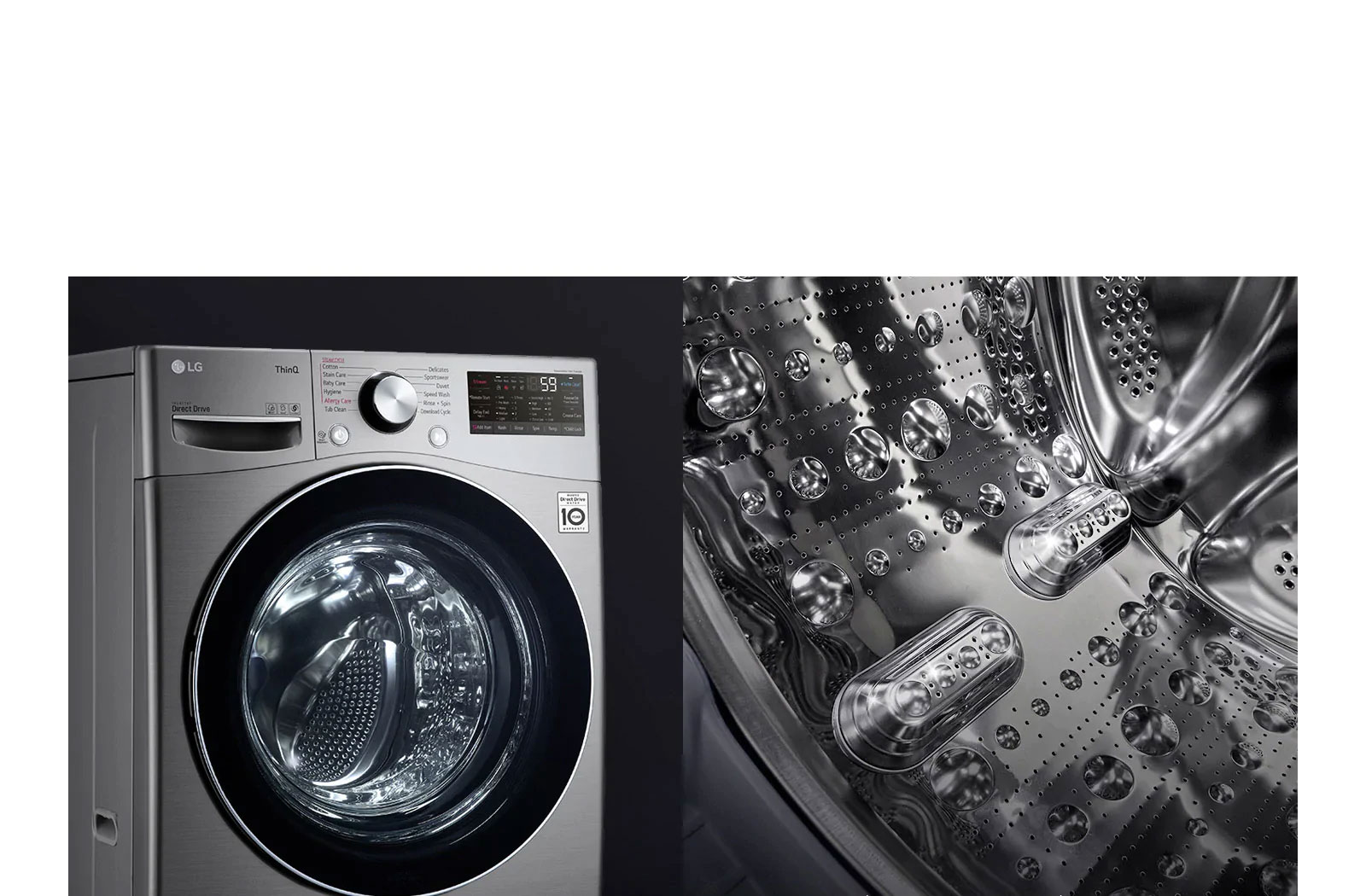 Designed for Durability
The tempered glass door front and stainless steel internal clothing lifters are two examples of the thought and quality materials built into this LG washer.
*Tested by Intertek on July 2013. Placed diluted solution including P.aeruginosa bateria onto Stainless steel and Polypropylene, and measured the number of colony after twelve (12) days. More reduction in number of P.aeruginosa observed on Stainless steel.
Outstanding Performance with 6 Motion Direct Drive
LG washers use a combination of 6 motions, based on hand-washing, to wash your clothes. Simply choose a cycle and your machine selects the best combination of washing motions to give you an outstanding wash, whilst also caring for your clothes.
Releases clothes at the peak of the rotation cycle which helps loosen laundry and reduce tangles.

Regular tumbling for your everyday washing needs.

Quickly alternates creating a scrubbing motion. Helps dissolve detergents & remove stubborn stains.
Force from the fast rotation distributes the water evenly onto laundry for a full & even saturation.

Clothes are rolled gently under water for a delicate wash.

The drum gently swings clothes from one direction to the other. Ideal for those delicate items.
Long lasting and high reliability
The Inverter Direct Drive Motor powering our washing machines is reliable yet quiet and
comes with a standard 10-year warranty.
*Limited warranty does not cover repairs when your product is used in other than normal and usual houshold use (e.g. commercial use, in offices and recreational facilities) or contrary to the instructions outlined in the pruduct's owner's manual.
ThinQ®
ThinQ® technology incorporates intelligent features with this front load washer that let you remotely start or monitor your wash progress. You can also track wash cycle history, diagnose and troubleshoot issues and download additional wash cycles.1,2
1 Compatible smartphone required, Android 4.1.2 (JellyBean) or later or iOS9 or later required for LG ThinQ® app and Audible Smart Diagnosis feature. Mobile 3G/4G or Wi-Fi connection, LG ThinQ® app is required for Remote Start, Usage History & Notifications.
2 Support for smart home devices that are compatible with Google Assistant may vary by country and your individual smart home setup.
*The image of the product is for illustration purpose only and may differ from actual product.
Pause and Add Item
The LG front load washer lets you 'Pause' the wash cycle to 'Add Items'. Simply press the 'Add Item' or hold the 'Start/Pause' button for 3 seconds so extra items of missed clothing can be included in the wash up until the spin cycle.*
*Door will remain locked if water temperature is above 40°C or the water level is high.
*The image of the product is for illustration purpose only and may differ from actual product.
DIMENSIONS
SUMMARY
CAPACITY

15/8 Kg

DIMENSION (WXHXD, MM)

645 x 770 x 940

MAIN TECHNOLOGY

Front Load Washer & Dryer

ADDITIONAL BENEFIT

Reduce Allergens with Steam Cycle